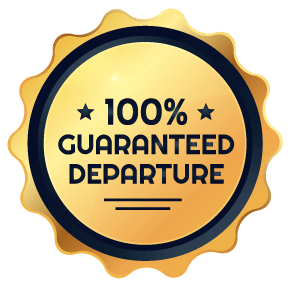 Day tour.
Registered guide, entrance fees.
Available from April 1st to October 31st.
Este tour so esta disponivel em Frances ou em Ingles. Possibilidade de tour privado em Português ou em Espanhol segundo as disponibilidades.
COTE DE NUITS
Pick up:
- On Tuesday and Thursday: 09.30 am: Beaune Tourist Office (Address: 6 Boulevard Perpreuil, 21200 BEAUNE).
- On Saturday: 09.00 am: Beaune Tourist Office or 09.45 am: Dijon TGV train station forecourt.
Picturesque drive along the Côte de Nuits through the villages of Nuits-Saint-Georges, Vosne-Romanée and Gevrey-Chambertin. Discover the "Champs-Elysées" of Burgundy.
We will take advantage of being in those prestigious vineyards to explain the Terroir and the different stapes needed along the year to harvest the best Pinot Noir possible. "L'expression du Terroir".
Guided tour of the Château du Clos de Vougeot.

Founded in 1098 by monks of the abbey of Cîteaux, the vineyard of Clos de Vougeot Grand cru covers more than 50 hectares. Today, it is owned by more than 80 owners. This Grand cru is one of the most prestigious wine from Burgundy. The castle welcomes now the "chapitres" (dinners) of the emblematic Confrérie des Chevaliers du Tastevin (the Brotherhood of the Knights of Tastevin).

Nuits Saint Georges, Vosne-Romanée, Gevrey-Chambertin.
Introduction to the vineyards and to the "Village", "Premier" and "Grand Crus" classifications, stop by Grand Cru Romanée-Conti.
Sightseeing along the Grands Crus road and stop at the famous Romanée-Conti. Considered as the most prestigious name of Burgundy, this plot of 1, 8 hectares produces the most expensive wine of the world.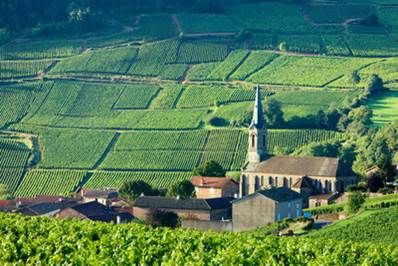 Cellar tour and wine tasting at a family winery.

Burgundy wines are the result of experience, tradition and family heritage. The "savoir-faire" of our winemakers which is passed down from generation to generation contributes to the prestige of our wines. In this first tour and wine tasting, you will discover the authenticity of a family domain through a tasting of their different wines.
Lunch at your leisure according to your guide's recommendation
Cellar tour and wine tasting in a family domain.
In the town which gave its name to the Côte de Nuits, you will enjoy a final tour and wine tasting to experiment another face of Burgundy. You will discover all the secrets of the winemaking, from the grape to the bottle.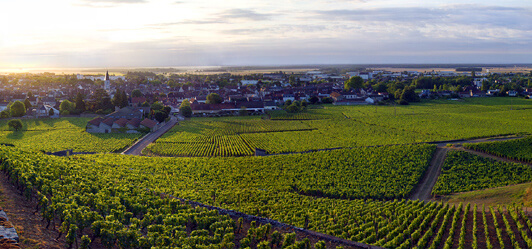 Drop-off: 05:30 PM at Beaune Tourist Office
This tour includes
Transportation in an air-conditioned comfortable minivan for the day, English and Spanish speaking guide for the day, entrance tickets and guided tour of the Chateau du Clos de Vougeot, tour and wine tasting in a family domain, tour and wine tasting at a local domain in Nuits-Saint-George.
8 passengers maximum per vehicle.
This tour does not include
Other drinks, meals, extras, personal expenses, pick up at your hotel in Beaune area (15,00 € per person).
| | |
| --- | --- |
| Duração do tour | 1 dia |
| Tipo de tour | Pequenos grupos |
| Língua | We authorize a maximum of 2 different languages per minivan. In that case, your guide will lead the tour in 2 languages. |
| Van | Tour semiprivado ou privado. O transporte desta excursão é operado em vans com opções completas e confortáveis. Máximo 8 passageiros por van. |
| Crianças | Preço reduzido para crianças menores de 12 anos. Gratuito para crianças menores de 3 anos de idade. |
| Guia | Tour semiprivado ou privado. Esta excursão é acompanhada por um Guia oficial Intérprete. O guia oferece um passeio pelos monumentos e apresenta a história e a arquitetura dos locais e cidades visitados. |
| Destination Code | FR BEA | Beaune |

Especialista em roteiros personalizados em toda a França desde 2003 !
Você gosta de este roteiro, mas não deseja compartilhar o microônibus com outros hóspedes? Temos o ajuste perfeito para você! Aproveite esse roteiro numa base privada!
Exclusividade de um motorista guia que fale português.
Transporte particular em um microônibus Mercedes confortável com todas as opções.
Colheita e entrega complementar no seu hotel.
Nossos guias não vai lhe dar uma palestra, mas ele vai levá-lo como um amigo e de uma forma descontraída, revelando muitas anedotas! A garantia de ter um tour totalmente adaptado ao seu perfil, suas dúvidas e as suas preferências!
Reviews
By
Pierre M.
on 30 May 2018
(

Tour de um dia em Borgonha: Côte de Nuits, Clos Vougeot, com degustação de vinho

)
:
Wonderful experience & guide
We had and unforgetable wine experience in Burgundy - ofcause as a result of the wonderful region- but even more so because of the envieable knowledge and history of the region which Paul has. He truly made all fall into perspective for us to understand and enjoy.
Tour de um dia em Borgonha: Côte de Nuits, Clos Vougeot, com degustação de vinho
COTE DE NUITS
Pick up: 09h: Pick up no "Office de Tourisme" de Beaune. (Terça, Quinta & Sabado)
Customers who bought this product also bought
Customer ratings and reviews